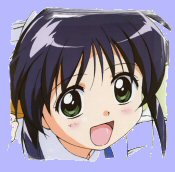 Welcome to Mahoro's Dream! I'm Mahoro, of course. You'll find here various links, pictures, informations and some little things about me!
Now, without any further delays, here are the latest news about my dream...!
Volume 6 is out! Axel-san is reading the latest adventures of me and Suguru-san in the English manga edited by Tokyopop. For those who were wondering, you can order it in Europe at Archonia!

On a side note, Axel-san has uploaded many new pictures and wallpapers for everyone's enjoyment!
Mahoro Andou
Volume 5 is out! Volume 5 of my adventures in manga form is out on the shelves! This happens almost at the same time as the release of the french DVDs. I've never felt like a french maid so much before!
Mahoro Andou
December 26th 2004 @ 17:15
New pictures soon, and the end of the manga. Here it is, the end of the manga version of my adventures, coming with the 8th volume. There are differences with the anime version, but the ending is slightly the same. Anyways, you'll be quite surprised when reading it! Please note that Axel-kun is going to add new pictures to my galleries, so stay tuned!
Mahoro Andou
More galleries and a surprise! Axel-san helped me gather all the pictures I had left in a corner, for the pleasure of everyone! There are about a hundred pictures, and ten wallpapers, you should go take a look! Additionally, Axel-san uploaded voices from me so you can put them as events on your computer. You should try them all!
Mahoro Andou
Online! My Dream is eventually online! Axel-san and I finished up translating the whole site into english, even if he was pretty lazy and late most of the time...

*clears her throat* Welcome to my Dream, I hope you'll have a good stay here and that you'll come back often! Axel-san and I are working on updates from time to time, so feel free to come back again anytime!
Mahoro Andou