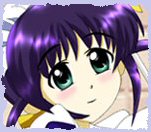 Ah, how can I not talk about Minawa-chan? She arrived towards the end of my days, but she made me discover something wonderful: having a little sister to protect. I admit I fell for this little clumsy blonde with affection, but she's so cute... It's hard to resist her!
I called her Minawa because her codename was apparently Number 380. I thought that "Minawa" was a cute name, and it was a little pun with her number... Yes, she's an android from the Keepers, and even if Slash doesn't trust her at all, I know she has a good heart. She's a normal child, after all.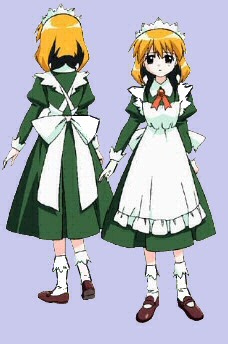 I gave her a maid outfit of her size so she could help me in my daily chores. As a consequence, I don't get bored anymore alone in the house, when she doesn't go to classes of course!
Ah well, that's another story. On her first days of class, I was so worried that I infiltrated the school in order to know if everything was going well with her!
Well, I hope that everyone will think she REALLY is my little sister. They must not discover her true identity...
Ah, do you want to add something, Axel-san?
Yes yes, about Minawa...
We can wonder about the use of Minawa in the second season, and when you look at it more closely, it is quite unclear whether she really had a big role in the series, except for comic relief. Too bad!