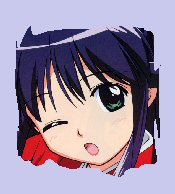 During this second season, 14-episodes long, I met Minawa-chan, which was a Keepers' android. Suguru-san and me protected her nonetheless even when we knew where did she come from. A mistake? Maybe, but the memories we made together completely made up for it! Oh, I almost forgot: the second season started at the end of september, 2002, and ended towards January, 2003, with a special episode released during summer of 2003, where I chased ecchi with Suguru's friends!
I surely can't say much happened during this second part of the end of my life... But I'm sure of one thing: the last moments of my life have been very intenses and terrible to endure, with the arrivel of the Keepers, Guardians or Caretakers, whatever you want to call them. They are responsible for what happened to Minawa-chan, and I will never forgive them...!
A dream can't last forever, and mine had to eventually stop one day.
Mahoro Andou