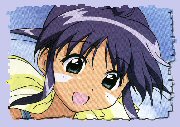 Suguru-san keeps some interesting little things in his room, that I serve here freely for those who would want them. It is difficult to find such things, apparently, but I won't give up ! I will surely find other things to add here once in a while!
Mahoro Andou
Screensaver for MAC - Unfortunately I never found a PC Screensaver, but I hope MAC users will like this one, and that someone will eventually make one for PC too!
Wake up call - Here is a little message from me so you can wake-up in the morning. I hope my soft voice will help you have a nice morning!
Voices (1,7Mb) - This is an archive containing lots of small mp3s of myself during the series. You can use these to customize your Windows messages, for example!