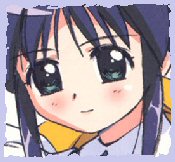 Axel-san helped me a lot in finding everything that was selling about me on Internet. I admit I'm surprised, I wasn't expecting so much things. It's making me feel weird thinking all those things about me are sold... It's image exploitation! Oh well, it's not as if I could do anything about it.
Some important precisions before showing you all the merchandise.
Shops showed below have been tested and approved by Axel-san, and thus are all trustworthy. I'm always the first to complain about online ordering... I mean, I've been disappointed by err... a vacuum cleaner, yeah, before. So you can go to these shops blindly.
Also, the indicated prices are only indicative. You should always check the true price on the shop's site ebfore buying!
Here's a little guide on the various online shops:
Mahoromatic OST 1 (First season)
9$ / 7€ @ Kikiwai
All the soundtrack of the series, but also with opening and ending songs, and even karaoke versions. There also are messages for your answering machine and other funny things.
Mahoromatic OST 2 (First season)
9$ / 7€ @ Kikiwai
The rest of the musics and song not included on the first CD, but there also is a drama where we play poker and find Suguru-san's mother's wedding dress!
Mahoromatic OST 3 (Second season)
9$ / 7€ @ Kikiwai
On this disc, you'll find songs and music that was added for the seacond season of my adventures, as well as vocal messages from Minawa-chan...!
CD Drama : Multitalking
2500Y / 20€ @ CD Japan
Mahoromatic for Ayako Kawasumi (songs)
2800Y / 22€ @ CD Japan
Mahoromatic Sound Party - Mahoro-ban (songs)
1500Y / 10€ @ CD Japan
Mahoromatic Sound Party - Minawa-ban (songs)
1500Y / 10€ @ CD Japan
CD Drama : Radio de Drama
2500Y / 20€ @ CD Japan
Triomatic (songs)
2500Y / 20€ @ CD Japan
Original Manga (japanese)
19$ / 15€ @ Kikiwai

These mangas are very nice with a raised colored cover as well as a mini-poster inside. There are 8 volumes.

Tokyopop is also publishing the english version, for 10$, available in May 2004 at Amazon.com
Groundwork of Mahoromatic (3 volumes)
50$ / 37€ (63$ for the 3rd) @ Kikiwai
2500Y / 23,57$ / 19,45€ ] HobbyLink Japan

22 colored pages and 175 black&white ones (volume 3 is bigger than the others since it covers the second season entirely.) These books contain colored illustrations, but also many sketches from the series by their authors! Very interesting if you want to know how things were drawn!
Mahoromatic Visual Book
1800Y / 17$ / 14€ @ HobbyLink Japan

This book contains various illustrations, all colored, as well as a presentation of the Mahoromatic staff.
Mahoromatic Visual Book 2
38$ / 30€ @ Kikiwai
1800Y / 17$ / 14€ @ HobbyLink Japan

About 80 colored pages and 42 in black & white, with informations on characters, goodies, a story summary and pictures taken from the anime. There also is a poster inside!
Mahoromatic Adventure Game Guide
48$ / 40€ @ Kikiwai
2400Y / 22$ / 18€ @ HobbyLink Japan

About 15 colored pages and 80 black & white pages, with character profiles and story summaries of the PC game as well as pictures and the many possible endings. A shitajiki is also inside.
Mahoromatic Adventure Game Guide 2
2000Y / 18$ / 15€ @ HobbyLink Japan

Another artbook on the Adventure PC Game with guides in order to explore all the possible endings.
Mahoro 1/7 from Amie Grand
12000Y / 113$ / 93,25€ @ HobbyLink Japan

27.2 x 14.2 x 10.3cm/610g
I don't think I'm well rendered on this one...
Mahoro 1/8 from Epoch
7800Y / 73,54$ / 60,61€ @ HobbyLink Japan

21.2 x 14.3 x 5.3cm/270g
This is my preferred figure! I think it represents me well, don't you think?
Mahoro 1/12 from Kotobuyia
19800Y / 186,67$ / 153€ @ HobbyLink Japan

14cm tall once completed/420g
Oh, this one much be hard to build, since there is also the motorbike... And the paint... Well, I heard there is a completed version too available!
Mahoro 1/6 Summer from Kotobuyia
12800Y / 120,67$ / 99€ @ HobbyLink Japan

23cm tall once completed/450g
I also like this one a lot, very graceful!
Mahoro 1/8 from Kotobuyia
8200Y / 77,31$ / 63,72€ @ HobbyLink Japan

20cm tall once completed/190g
Very nice as well!
Mahoro 1/8 chinese dress from Kotobuyia
7800Y / 73,54$ / 60,61€ @ HobbyLink Japan

19cm tall once completed/130g
Ah, I knew this dress would look too provocative, I really look like... err, well...
Mahoro 1/8 from Tora no Ana
8800Y / 82,96$ / 68,38€ @ HobbyLink Japan

20 x 14.5 x 6cm/260g
I don't like my head much on this one.
DVDs Zone 1
26,98$ / 21€ @ Amazon.com

These american DVDs are very well done and are the only ones with subtitles so far.
They have english subtitles, but also english voices and japanese voices for you to choose. They are accompanied of bonuses like paper dolls... *sigh* Well, at least it's like in the Japanese DVDs! Each DVD has 4 episodes, except the last one which contains 5. Total series is spanned over 6 DVDs.
DVD Special Zone 1
10,94$ / 8€ @ sans figurine ou 27,99$ / 22€ avec figurine chez Amazon.com

This DVD contains the summer special episode aired in japan in August 2003! It occurs during the second season of my adventures. It's really just like a little bonus episode.
DVD Live! Zone 2 Japanese
4500Y / 40$ / 35€ @ CDJapan

There are some clips on this DVD but also a live concert show... For japanese-loving fans only!




Phone holder
3628Y / 31$ / 27€ @ Nippon-Export

Oooh, they're so cute! I'll go take one!
Post cards (12 pcs)
1000Y / $9,43 / 7,77€ @ HobbyLink Japan

15.5 x 11 x 0.4cm/60g
12 wonderful postcards with pictures from the series!
Wallscroll
$14,5 / 10€ @ Kikiwai

80 x 102cm
Oh my, who took my photo in such an outfit? I'm embarassed...
Trading cards
$6 per pack of 9-10 cards @ Kikiwai

For fans!
T-Shirt
3500Y / 33$ / 27,20€ @ HobbyLink Japan

L-Size, this t-shirt is really good! (Warning, japanese are often one-size smaller)
Shitajiki
6$ / 5€ @ Kikiwai

Pencil-boards for your desks!