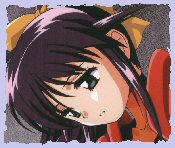 Suguru-san is the owner of the house where I'm working, and he is also my master, and Slash's. Of course, this is only a honor title, and Suguru-san made it clear to me that I had to call him -san and not -sama, so we could be equal, in a way.
In my opinion, he is a rather lonely boy. Even if he's surrounded by friends, there's something lacking... And I think it's what I took away from him before coming to work as a maid for him... This is one of the reasons why I'm here, to try to fill that emptiness I caused.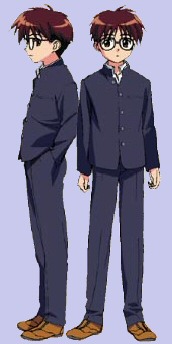 He's also a very kind and generous person: Never will he refuse to help his friends, and I know he'd do anything to make everyone happy around him. This is also a problem, when you think about it: He never takes firm decisions that could hurt someone else...! That makes him unable to go forward if he doesn't try to make a decision, but I know he can do it!
Another thing about him...? Oh, he's like all boys his age, and even if I confiscate all his ecchi magazines, he seems to be able to get some, somehow. I will have to find his source...
I am very happy though to be able to take care of him, and I hope I will be able to do it for as long as possible, until my body reaches its limits...
Mahoro Andou