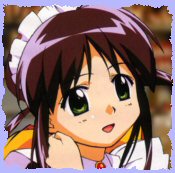 I hear here and there people saying that a maid's job is quite bad. Well, it is NOT! It's compltely wrong! No one can imagine how this job is hard, but eventually gratifying. when you can see the happiness on your master's face! Well, Suguru-san and I don't have this kind of relationship. He is the one who insisted for us to treat each other equally...
A maid must wake up very early in the morning, prepare breakfast and other things so her master to wake up and not worry about a thing. All those domestic chores are important, and it is totally out of the question to neglect anything! And don't even start talking about taking a little nap during the day, it is also out of the question! (But why are you looking at me like that...?)
Anyways, I consider myself lucky to be by Suguru-san's side. Compared to other maids, my daily life is quite pleasant, because Suguru-san doesn't treat me like a slave, and that is what is important. I thought it's what he would think of me at first, but he managed to surprise me...
He respects me as a human being, and that is the most beautiful present someone can do to me...
Mahoro Andou