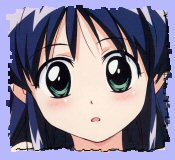 This is thanks to Axel-san that I was able to make this, so it is normal that I say a word or two about him, at least.
At 22, Axel-san got a webmaster's licence with a mention. He likes a lot of animes apparently, like Suguru-san... He lives in France, in Normandie, and if you want to contact him, you can do so by different means:
Email: axel@mahorosan.net
ICQ: 81441376
MSN: axelterizaki@hotmail.com
IRC: #teri-chan @ irc.nerim.fr (IRCNet) or #trilium @ irc.ff.st (ff.st)
Forums: AXL's Game Center
By the way, Axel-san, why are you hanging so much around the kitchen?
Me? Well, so I can taste your marvelous meals before everyone, Mahoro-san.
Ah...
I'd like to say that this site has been created thanks to other sites on Mahoro (for some parts). My experience showed me that it was very tiresome and useless to mail webmasters of some sites or creators of some content in order to get their authorization, as most of the time they are being quite deaf to emails.
I perfectly understand that artbook scans or magazines can be considered as hard work for someone to contribute to a website. However, I also think that everything we can find on the series that we like should be shared among everyone. I never do direct links towards pictures or files from a site. Everything is always hosted on www.mahorosan.net.
If however you are the webmaster of a website on which I took some content or informations, or the author of a scan or an artwork that you recognized among the numerous pics in the galleries, please contact me about it immediately. I will reply friendly and we'll be able to discuss of what we can do to arrange things. I am not against thanking and crediting people when it is due!