Livingroom
Welcome
Other characters
Picture Gallery
Couch
Videos
Kitchen
A Maid's Life
Calendar
About the webmaster
Terrace
Links
Drawing board
Link Book
Guest List
Mahoro's Room
Mahoro's Profile
The series
The First Season
Suguru's Room
Suguru's Profile
Wallpapers
Goodies
Merchandise
Minawa's Room
Minawa's Profile
The Second Season
News archives
Bathroom
Ecchi in Mahoromatic?


Visits since January 12th 2004: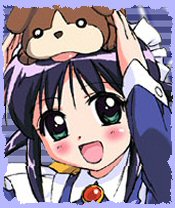 Here I'd like to put all the videos and animations and movies I can get! For now I don't have much since Suguru-san and I just bought a DVD player, but it's not going to take long before we get what we want... I personnally hope to to get all the different versions of the "Chamaleon Man"...!
Anime Music Video - Axel-san produced a music clip about me and Suguru-san, on the song "Dernière Danse" by Kyo. Let's download it and watch it! (Around 23 Mb) Although the song is in French, Axel-san made a translation below:
French

English

J'ai longtemps parcouru son corps
Effleuré cent fois son visage
Trouvé de l'or
Et même quelques étoiles en essuyant ses larmes

J'ai appris par coeur la pureté de ses formes
parfois je les dessine encore
elle fait partie de moi

*Je veux juste une dernière danse
Avant l'ombre et l'indifférence
Un vertige puis le silence
Je veux juste une dernière danse

Je l'ai connue trop tot
mais c'est pas de ma faute
La flèche a traversé ma peau
C'est une douleur qui se garde
qui fait plus de bien que de mal
Mais je connais l'histoire
Il est déjà trop tard
Dans son regard
On peut apercevoir
qu'elle se prépare
au long voyage

repeat *

Je pourrais mourir demain
Ca ne change rien
J'ai reçu de ses mains
Le bonheur ancré dans mon ame
C'est même trop pour un seul homme
Je l'ai vue partir sans rien dire
Fallait seulement qu'elle respire
Merci d'avoir enchanté ma vie

Avant l'ombre et l'indifférence...
(repeating random lines)

I ran through her body for so long
Brushed a hundred times against her face
Found gold
and even some stars when wiping her tears.

I learnt by heart the purity of her curves
sometimes I draw them again
she's a part of me.

*I just want a last dance
Before darkness and indifference
A dizzy spell then silence
I just want a last dance.

I met her too soon
but it's not my fault
The arrow went through my skin
It's a pain to keep
that heals more than it hurts
But I know the story
It's already too late.
In her eyes
you can see
that she prepares herself
for the long journey

repeat *

I could die tomorrow
That wouldn't change anything.
I received from her hands
The happyness anchored in my soul
It's even too much for a single man
I saw her leave without saying anything
She just had to breathe
Thanks for enchanting my life.

(repeat random lines)

Mahoro Andou