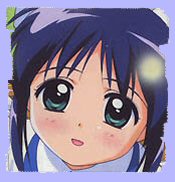 I noticed that there was some other people who liked me very much, that's why I took note of websites that are talking about me and Suguru-san, and I've put them here.
I'll add some more as time'll go. I'll also put some nice banners for this place!



Official Site : For those of you who speak japanese!
Official English Site : Hosted by Pioneer/Geneon, which is distributing my adventures in the U.S.!
Official Gainax Site : Lots of small pictures and informations on goodies!
Mahoromatic Love! : A very nice site with lots of info and exclusive little things here and there!
Mahoromatic Shrine : A small shrine dedicated to me, apparently! Lots of picture galleries!
Kaerimichi : Or "My way home", this little site is used for my fans to meet... I didn't know I had so many of them!
There are a lot of other sites I will talk about alter, especially the merchant ones, where you can buy Mangas, DVDs and other goodes, here!

Ah, I almost forgot the Links Book too, which holds all the favourite sites of the people who came here!
Mahoro Andou